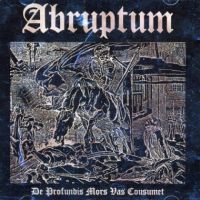 Abruptum - De Profundis Mors Vas Cousumet CD...$14.99
All CDs $14.99 Postage Included Within USA!!!
Order 3 Or More Items You Get 10% Discount (Includes Vinyls)!!!
This Averages About $13 Per CD!!!
Check Other Distros & You Do The Math!!!
Not Bad Considering Cult Titles I Have To Offer!!!
Please E-mail Prior to Ordering & You Will Be Invoiced Reflecting 10% Discount!!!
Texas Residents Please Add .0825 % Sales Tax!!!
Overseas Please E-mail For Postage!!!
You Do However Still Get 10% Off When Ordering 3 Or More Items (Including LPs)!!!
This Covers Postage In Most Cases!!!